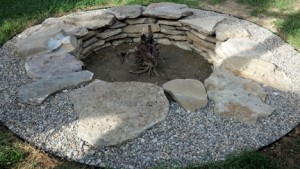 This summer we had a major drought.  It was so bad the town of Fishers, where I live, instituted a burn ban.  The grass in my yard was decimated by the dryness, so I took action on a project my wife and I had talked about for a long time.
So what did I decide to do during a burn ban?  I made a firepit.  One particular spot in my backyard is notorious for turning brown each summer in spite of watering and other special care, so this summer with the excessive heat and dryness was no different.  I decided that since the grass was suicidal in that area, I would just help it along and dig a big hole in that area and line it with the multitude of flagstone I had lying around from a deteriorating landscaping project by my home's previous owner.
Here's a little journey through my project.
Like every project I dream about and then actually take action on, this one took a lot longer than I expected.  When I first thrust my shovel into the rock hard ground, it was mid July and I had a plan to complete the pit in two days.  What could be so hard about digging a two foot deep hole and stacking a bunch of rocks in a circle? Two and a half months later I had the answer… HARD.
I'm a bit embarrassed to say I started this around the weekend of July 14th and finished on September 23rd, but it did include four tons of river rock, laying down a lot of weed block, and a few days off for that thing called work.  Still, it was no weekend project as I had originally imagined.
The best part is that it is complete, and the burn ban has been lifted.  Now it's time to roast marshmallows.
Here are a few more pictures from the rest of our backyard project.