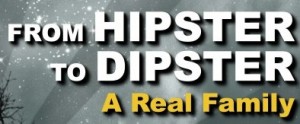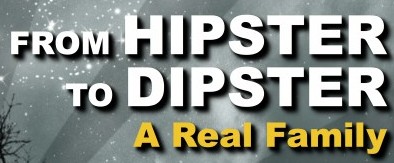 Sometimes I pick a show to watch at IndyFringe purely based on the time and location that it is playing.  I don't live downtown, even though it is one of my never-to-be-fulfilled dreams, so I'm usually stuck picking from seven shows that are playing at a set time on a specific day.  As an example, I went to a show at 7:30 on Monday because I was dropping my father-in-law off at the airport around 6:00 and I could catch a show on my way home.  But like many Fringe goers, there are some shows that I read about and make it a point to see no matter what.  Scott Long's From Hipster to Dipster was that show for me.
Knowing that the end of IndyFringe 2012 was quickly approaching, I was running out of time.  I kept trying to find a slot in my busy suburban dad/husband schedule (the kids just started school) that matched up with the show schedule.  I decided that the 10:30 pm performance would be less intrusive than the  4:30 pm performance and it would give me a chance to share my thoughts and possibly encourage others to go see Scott's final show.  My wife and I scrambled out of our Fishers house a minute before 10:00 pm knowing that the show started in about thirty minutes. I knew exactly where I was going, but still The Cook Theatre is difficult to get to when you have to navigate unfamiliar one-way roads and avoid downtown pedestrian life.  All told, The Cook Theatre and Indiana Landmarks Center is a great venue, but for IndyFringe, it is not ideal.  It's just too far off the beaten path.  I do like the easy access parking however.
When I discovered that Scott Long had a show at this year's Fringe, I put it on my "must see" list.  I had become aware of Scott a few years ago when I heard him on local radio and was intrigued to know more about this atypical comedian.  And while I have not been a stand-up comedian for the past 20 years like he has, Scott and I have a lot in common with our connections to the Hollywood entertainment scene and our transplanted lives in Fishers, Indiana.
Like many Fringe shows, I knew very little about what I was going to see.  My only clues were that it was a one man show by a comedian and the show description talked about changing from an urban hipster to a suburban dipster.  What I discovered was a poignant show about fatherhood that was filled with laughter and soberness.  Scott spoke about his wife and his battle with infertility and their eventual invitro process.  He spoke about their success in having a baby and their concern when they found out she was developmentally challenged.  Ultimately, I found out that Scott is a, "good dad but not a great dad."
Comedy is therapeutic.  It not only is healing for the audience but even more so for the comedian.  The audience at a comedy club is essentially the unlicensed therapist, and the comedian is the patient.  The more laughter from the audience, the greater the healing.  Scott has a story to tell that offers hope for others while providing meaning to the daily challenges he and his family face.  It also offers healing.
From Hipster to Dipster has one more performance today (Sunday, August 26 at 4:30 pm) at IndyFringe.  I assume that Scott will continue to share this story at other venues, so if you can't see it today, you should keep an eye out for him.  You will be challenged to become a better person, encouraged to share the blessings you have, and reminded to laugh in spite of life's difficulties.