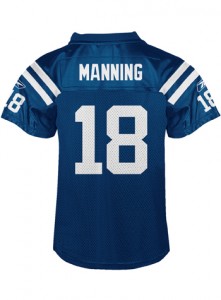 Just because Peyton Manning is taking his game to a new team, I pledge that it will not stop me from occasionally making a few posts mentioning "his greatness" just to increase my blog traffic.
Let's face it.  Just like Peyton Manning lifted the Colts as well as the NFL to greater heights, he can do the same for web traffic.  A mere mention of his name on Twitter with a link it to my latest blog post will increase my traffic exponentially.  And I'm not complaining.
I definitely will  miss Peyton for his football heroics.  I have a feeling some upcoming Colts games will be pretty difficult to watch.  Indianapolis will always be indebted for the positive attention he brought to the city which led to a new stadium and the opportunity to host the Super Bowl.  But I won't have to miss his ability to attract a crowd on the Internet because he will always be able to play for my blogging team. Best of all, I don't have to worry about the salary cap or future injuries.  In fact he'll always be able to play hurt for my team.
So, thanks Peyton for everything you've done here in Indy including increasing my blog traffic. With a little Luck, maybe it will keep going up.