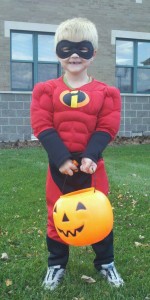 My four year-old son is a big The Incredibles fan.  He dressed as Dash for Halloween and has worn the costume to my other son's Christmas program and then shopping the other day.  And in the last two days, he's racked up two more viewings of the movie.
So file this one under the "Like Father, Like Son" category because as I listened to the movie play from my office, I thought about how much I liked the movie too.  In fact, I think it's probably my favorite Pixar film.  Of course most of their work is top notch, but today this one really resonated with me.  Especially Mr. Incredible's character (not because I think I'm incredible or can leap tall buildings in a single bound). What I relate to is his plight.  He was created to be incredible, a super hero, but one day he was relegated to a desk job handling insurance claims.
Just like any career, taking care of insurance claims is important work, but I think we'd all agree that it was not the work Mr. Incredible was created to do.  As I have thought about this more and more, I believe that many of us are lured into that "desk job" because of social pressures, a desire for money, or merely a desperate need for money.  Instead, we should be looking at our futures with both head and heart.  We should look for a way to combine our calling (a heart issue) with a way to make a reasonable living (a head issue).
I believe there is a divine relationship between who we are and what we do or should do.  Sounds pretty logical, but is there that connection in your work life?  What if it were as simple as going back to when we were between the ages of five and ten and looking at our response to the question of what we wanted to be when we grew up?  Of course, we'd have to create a filter for the typical fireman, baseball player, ballerina response and take into consideration that there are a lot of jobs kids don't know about.  But how did you answer that question back then?  It was probably a decision made solely based on dreams, passion, and love instead of one based on outside pressures, skewed perceptions, and obligation.
Maybe we could actually get a better read on career selections by looking at the five year old's answer instead of personality and IQ testing.
If Mr. Incredible had existed when I was five years old, I'm pretty sure I would have put that career on my "when I grow up" list.  Now at 42, I'm daily pursuing the goal of being "Mr. Incredible."  Yes, I want to be a super hero (when I grow up).  Actually, what I want is to pursue being incredible, and the only way to really do that is to do what I was created to do.
I want this for my kids too.  So next year, when my four year-old turns five, I'll have to schedule an appointment to help him with his career planning.