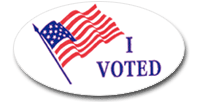 Here in Indiana, we're holding out next general election on Tuesday, November 8, 2011, which, at this moment, would be next Tuesday. I believe it is a very important election. However, most people, even moderately faithful voters, may not share my opinion. Why? Because voters often put a greater emphasis on the more exciting national elections. Next week's election isn't quite as flashy because of its local flavor of town and city counselors, mayors, clerks, and judges, yet that is the exact reason why it is so important.
This is one of those situations, where the opposite of popular thought is true. Popular thought, which results in voters coming out in droves, says that big national elections are the most important. However, it is more likely that the election of local leaders and the decisions they make will actually have a greater impact on the individual citizen.
You've probably heard that, while it may be illogical to play the lottery in the first place, it is even more illogical to play only when the jackpot hits all time highs. The reason for this lies in the fact that even though the pot is bigger, so are the potential number of winners because more people are playing which then forces the pot to be divided up into smaller amounts. The same goes for local elections. Your vote has more meaning and impact when there are fewer people voting. Your one vote out of 1000 affects an election's result a lot more than your one vote in 100,000. It just makes sense.
In addition, the local election is the one that is more directly linked to your bank account. The local leaders are the ones deciding how to spend your property taxes, sales taxes, and state income taxes. Moreover, they are the ones deciding whether to raise or lower those taxes. In addition, these are the people making decisions about zoning, building codes, local road development and repair, the size of police and firefighter staffing, how to educate your children, and how to bring new businesses and jobs into the community. These are pretty weighty issues.
Why wouldn't you want a part in selecting these decision makers?
Voting is a right. It is also a responsibility. But one day, if we don't respect that right and responsibility, it may just disappear. Please take the time this coming Tuesday to do your civic duty and have your say in selecting your community's leaders.
Jack Lugar is a candidate for the U.S. House of Representatives in Indiana's 5th Congressional District.  For more information about his campaign, to volunteer, or donate please visit Lugar for Congress.