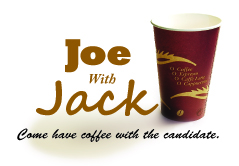 In an effort to get into the community and connect with the voters, I am hanging out at Big Apple Bagels in Fishers every Friday morning from 6:30 -8:30. Â My desire is that people who are interested in getting to know me and more about my candidacy will stop in for a cup of coffee and/or a bagel and sit down for a moment or two to chat.
Joe w/ Jack is an informal weekly event, so just show up and give me your two cents worth. Â I look forward to meeting you.
You can get a map to Big Apple Bagels here.
**We have recently changed Joe w/ Jack.  Now, if you are interested in sitting down for a cup of coffee, contact the campaign office (317-537-1705) to schedule a time and location.  I want to be accessible to the voter, so let's set a time to talk.