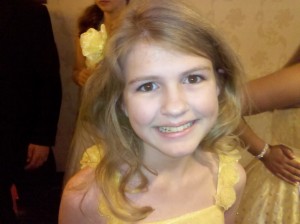 I was a very proud dad last weekend.  I was also pleasantly surprised.
My 12 year-old daughter came home from school earlier this spring asking Elisabeth (her mom) if she could enter a pageant that was happening this summer.  That was a bit of an interesting request considering that she really had not shown a lot of interest in anything pageantry related.  Getting dressed up had never really been high on her list and spending time on her hair always came with a groan.  Elisabeth was eager to help our daughter prepare for the pageant because she too had appeared in a few in her youth.  I guess it's in our daughter's blood.
While I've never been a big fan of the beauty pageants we see on TV nor the toddlers being all dolled up and paraded in front of the cameras, I decided to take a supportive role and mostly stay out of the way.
The pageant that my daughter was entering was by National American Miss (NAM).  Being 12 years old, she was in the pre-teen category which was a no make-up age group. And even though I'm not opposed to girls exploring make-up at this age, it was nice to see that this pageant wasn't solely based on glamming up little girls to see who could look like the most outlandish tramp.  This is not to say that the girls didn't make up for some of that with ringlet curls, gallons of hairspray, and pricey ball gowns.
I was pleasantly surprised by the event because I felt that the pageant really gave my daughter and every other girl there a platform.  They each had the opportunity to speak in front of a large audience.  They each learned how to walk with their head up, shoulders back, smile, and show confidence in front of a crowd.  I recently read that 75% of all people have speech anxiety.  So what a great opportunity this was to teach my daughter how to be confident when speaking to hundreds of people.
It was a proud moment to see her take the stage in her beautiful dress and take another step toward becoming a lady.  It was just yesterday that I was changing her diaper.  While the cost of the event was extremely pricey (I'd say we spent close to $1000 by the time it was over), I think the long term benefits will be a quality return on our investment.
Did my daughter win? No.  She was able to walk away with a couple trophies, but more importantly, she had the opportunity to see what she could accomplish with focus, effort, and her God given talent.  So, as I said, it was a very proud moment for me.