This is a repost of what I wrote last year at this time. It may be a year later, but they put the sign back up, so this post still holds true.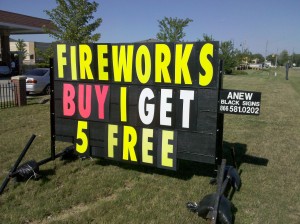 Something's wrong here.  Why is it when fireworks should be selling like hotcakes, stores are offering "buy one get five free deals?"  Usually, at the holidays, the corresponding products are overpriced with no discounts to be found.   At Valentines Day, roses are a ripoff as well as that box of candy.  As Easter approaches, the baskets, plastic eggs, and candy are all top dollar.  It's only after the holiday when the prices drop.
So what gives with fireworks?  How can the store give five away after someone pays for only one?  There's only one logical conclusion.  They're ripping us off.  Now, as I see it, buying fireworks is already a waste of money.   Literally, your money goes up in smoke.  But the price of that one has to be way off the chart compared to its manufacturing and marketing cost.
While I prefer good old discounts like 25% off or even better 50% off, even a BOGO deal sounds more legit than "buy one get five free."  (Here's my BOGO rant.)  But once you start offering five with a purchase of one, it should trigger a question of how much are they over charging for the one?  Right?  They didn't make the five "free" fireworks for nothing.  They have to pay for that somehow.  So either the free fireworks are duds or very boring, or they are not really free.
I hate stupid promotions such as these.  I hate BOGO, but I hate this one even more.  I guess I hate it because it plays to human gullibility.  Everything about it says the retailer is lying, which only makes me mad.
So what's the limit?  Why sell one and give five away.  Why not go one better?  Sell one and give six away?  It's like Six Minute Abs.  Why not Five Minute Abs?  So I propose that the fireworks sellers go all out and cut everyone a real deal.  BUY ONE GET A BILLION FREE! Sure, that first firework is really expensive, but the other billion fireworks are a steal!