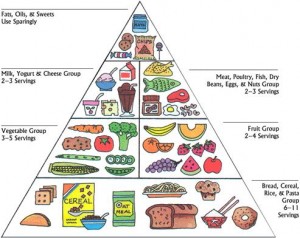 The Food Guide Pyramid is out.  After spending two million dollars in tax payer money, the government (The USDA specifically) has gotten rid of the pyramid and created a pie chart (actually a dinner plate of some sort).  Irony aside about the new symbol being a "pie" chart, is the whole "instructions on eating" really needed by the government?  If ever there were something that could be handled by the private sector, it's how to eat healthy.  Face it, everybody has written a book on how and what to eat.  Even I've done it.
SHAMELESS PLUG: The Starving Artist's Diet by Jack Lugar
When I was in elementary school, I was taught about the four food groups.  It was simply meats, grains, fruits & vegetables, and dairy.  It was pretty straight forward, and from what I know, it never killed anyone… At least not directly (excluding allergies) and not without many years of over indulgence.
But apparently somewhere around 1992, someone in the USDA was bored or needed to spend budgeted  money and decided to create a pyramid.  Heck, it worked for the Egyptians.  So, the simple food chart was modified.  I was out of school when they did this, so I didn't even know anything about the pyramid until I wrote my book.
SHAMELESS PLUG: The Starving Artist's Diet by Jack Lugar
In the pyramid, the grains created the base and encouraged everyone to carb load.  The next part of the pyramid consisted of the fruits & vegetables, but for some reason they had to be separated.  I'm guessing some people (kids especially) were only focusing on the fruit and not the veggies, so the FDA wanted to make it clear that we needed some of each.
On top of the pyramid were three sections: one for dairy, one for meat (or protein type foods), and one for all the fats, oils, and sweets.  Apparently the pyramid was a bit counter intuitive because the things you needed least were at the top and the things you needed more of were at the bottom.  Pyramids are so confusing… Right, Mr. Madoff?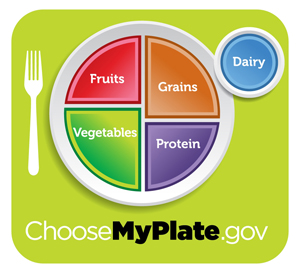 So, as of June 2, 2011, the Food Guide Pyramid is no more.  Now the USDA will give us guidance with a Dinner Plate.  I'm sure this will change everything (sarcasm).
Let's face it, Americans know what to eat.  We know what is good for us and bad for us.  We know that sugary sodas are bad and water is good.  We know that chicken or fish is better than a fatty slab of beef.  We know that broccoli is better for us than potato chips.  But, guess what?  We don't care.  It's as simple as that.  If Americans wanted to eat healthier and stay fit, they would.  In fact there are millions out there doing it.
If the government really wanted help the American people, the USDA would have invested those millions in buying copies of my book to share with the world.
SHAMELESS PLUG: The Starving Artist's Diet by Jack Lugar