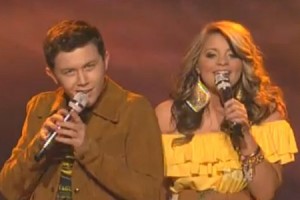 For the past two years, I've posted my thoughts about how American Idol will end.  I've predicted who I think will win, and without doing the research, I believe I'm at 50%.  Not having watched for since the first season, I wasn't quite in tune with how the voting went, so I went with Adam Lambert a couple seasons ago.  Of course I should have known that most of Danny Gokey's votes would have gone to Kris Allen and predicted Kris the winner.  But I didn't.  Last year on the other hand, I went with "What's his name" even though Crystal Bowersox was the better performer.  I got that one right.
This year, like the past two, I joined the family at the beginning of the season (my daughter is 12, so AI is now a family ritual) with mild interest.  What I found was the overall talent pool far surpassed that of previous seasons.  By the time they had whittled the competitors down to the top ten, I felt like it could have been anyone's to win.  Of course I still had my favorites.
From the moment he pulled out his bass and began growling, I thought Casey was the most talented artist in the competition.  While there have been many talented singers on American Idol, Casey has been the most entertaining and intriguing.  I would (probably) buy his album.  I'm not sure I could say that of any other contestant on that show over the years.
Unfortunately, what started as the most talented pool of singers in AI history turned into the most unappealing bland display of singing.  I like Scotty and Lauren fine.  They are both talented and will get their deserved shot at stardom, but YAWN!  Once Casey was booted (not unexpected knowing the demographic of voters), the show became completely boring.  Hence, I haven't watched since.  James Durbin was a saving grace for many, but then he was ousted too. And now we have a country music finale.  Yee haw!
So, my obligatory post and prediction of the winner goes like this.  Scotty… no, Lauren… no, Scotty… no, I don't care.  So just like the six or seven years between the first season when I watched and the season a couple years ago when I joined my daughter in front of the TV set again, I just don't care.  Scotty has the guy thing going, so many little girls will give him their vote, but Lauren (my daughter's favorite) is essentially one of the little girls, so she just may have the leg up this year.
Ultimately, I figure it will go something like this.  Randy will say "Dog," Jennifer will cry, Steven will say something appropriate for a sexual harassment lawsuit and the word "beautiful," and Ryan will put together a string of convoluted words attempting to drag out announcing a winner (bring back Brian Dunkelman).  Finally, Ryan will read the card and tell us it's a… tie.  The music will come up and  Scotty and Lauren will sing a duet.  Fade to black.