Everything I needed to know today, I learned from Louie Anderson.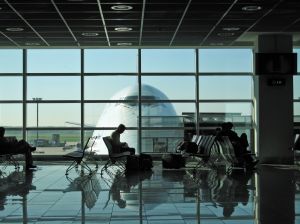 For a period of time in my life, I traveled quite a bit.  I spent time in airports, airplanes, cabs, and hotels.  At times it was a lot of fun.  It's also very overrated.  What wasn't fun was when I needed a room in a hotel and was told there weren't any.  The same for when I needed a certain flight and I was told it was sold out.
When I started working for Louie Anderson, one of the first things he taught me was that nothing is ever "sold out."  There's always another room at the hotel or seat on the airplane.  Was he right?  Maybe.  But in teaching me this, it wasn't important to be right.  It was important that I understood I could not take "no" for an answer.
Today, I was packing my clothes and getting ready to check out of my hotel when I took one last look at my email.  Most of the time I find SPAM or newsletters I wished I'd never signed up for.  This time I found a note from Southwest Airlines informing me that my flight had been canceled.  I clicked the link the email provided and discovered that the next available flight would be in two days.  Apparently one of Southwest's flights the night before had structural failure (a hole was ripped open in the fuselage mid flight) and they grounded 79 airplanes for inspection, mine being one of them.
My first thought was to panic because I couldn't wait two days to return home.  But I tucked that thought away quickly and picked up my phone.  I called Southwest as I continued to get packed and decided that I would not accept the answer that all their flights were sold out.  At this point I didn't know about the flight that had had trouble the night before.  All I cared about was making it on a flight and returning home to my family today.
After waiting on hold for about 25 minutes, Perry answered my call and asked me if I could take a flight on Monday.   I said "no, I really need a flight today," which was Saturday.  Perry tapped away on his keyboard a little more and asked if I would accept a flight on Sunday.  While this was better and I was tempted to say okay, I denied my accommodating nature and told him that that also wouldn't work.
Perry returned to tapping on his keyboard and was silent for quite a while.  Finally, he spoke.  "All right I have a flight leaving at 11:30 to Vegas and then connecting to a flight at 3:00 to Indianapolis."  Before he could finish, I blurted, "I'll take it."  I told Perry he was awesome, thanked him profusely, and scrambled out of my hotel room for the shuttle bus.
Of course when I arrived at the airport, it was an hour and a half before my flight.  I had to stand in line longer than any line for a new rollercoaster at  (insert the name of your favorite amusement park) .  Of course I was surrounded by hundreds of people in a similar situation.  I made it through the line in about an hour and ran to the security check. Where I unpacked everything and got naked… Well, not intentionally naked, but when I took my belt off as was required…  Anyway, by the time I sat down in my seat for my 11:30 flight, it was 11:32.  That's what you call close.  But here I am now, at 25,000 feet and 120 miles from Indianapolis.
Before I had worked for Louie Anderson, I would have just thrown up my hands and accepted my fate.  Today, I decided I would not accept "sold out" as an answer.  Considering the circumstances, Southwest may very well have not had any flights.   But if I had accepted that answer at first, I'd still be two days away from returning home to my family.
In reality, there may be times that things are truly sold out.  But if you start out by thinking that, then it will most likely come true.
Thanks, Louie.