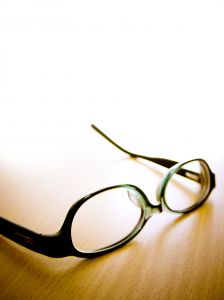 About 7 years ago, I had my eyes surgically repaired. I originally went in for Lasik, but was advised that to correct my vision, I needed PRK (Photorefractive Keratotomy eye surgery ) because my corneas were drooping. Of course, that cost a little more than Lasik and took a couple visits to complete. The end result was nearly perfect vision, no glasses, contacts, or solutions since that time. In addition, until last week, I had not visited an eye doctor for those seven years (Probably not the wisest decision). In all, I'm pretty confident that the surgery has paid for itself over time.
My appointment went well. Nothing had changed. But the doctor sure gave me some scares as to what could be happening with my eyes… I think he was justifying his fee.
The rest of my family also went to the eye doctor recently. My family is notorious for bad eyesight, so having watched my daughter squint a lot recently, my wife and I had decided it was time to get her checked. Her school had offered free eye checks, so we started there. Both times, the nurse said her vision was fine (I think my daughter was cheating on the test). Not feeling comfortable with those results, we went to the eye doctor. My daughter came away with a new pair of red framed glasses which she loves. Why does she love them? Because she can see.
Before she had the glasses, she really didn't know she couldn't see. She thought it was normal to have to squint from the back of the classroom. I remember the very moment in my youth when I realized I was missing out on things. I was at a baseball game with some friends. For some reason I tried on a friend's glasses and discovered that I could read the advertisements on the outfield wall. Amazing!
My daughter had the same revelation. She had no idea what she was missing. Isn't it that way with so many things in life?  We can't see what we're missing, so we don't know that we're missing it.  Is that a good thing?  Is ignorance bliss?  Not in my book.  Ignorance is ignorance.  We need to keep learning.  Keep educating ourselves.  Of course we can't know everything, but there are certain things we should all know… how read, write, count, etc.
If you knew you couldn't see, you would do something about it, right?  Then why are so many willing to live life in a figuratively blind state?  Just like a person with contacts or glasses puts them on everyday, we need to correct our blindness daily.