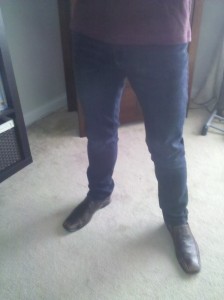 My wife bought me some skinny jeans.  I didn't protest too much at the time because I really had no idea what skinny jeans were.  When I put them on, I realized that skinny jeans are basically tights made out of denim.  Or tights with pockets.  After sliding them over my legs and successfully buttoning them, I let out a, "Hell no!," and peeled them off.
Later that day as I watched a basketball game on TV, I was mildly entertained by a Miller Lite commercial featuring a guy wearing skinny jeans.  I'd never seen that commercial until that day.  A sign from God warning me before I actually wore the skinny jeans out in public?
Just sliding into the skinny jeans for the first time brought a lot of questions to mind.  Do you have to be skinny to wear them?  And if so, who's the judge?  Is it legal for a 40 year old to wear skinny jeans?  I would have thought some legislature would have banned skinny jeans and smoking in all eating establishments by now.  Think about it.  Seeing some people wear skinny jeans could make diners nauseous.  And what about my wallet and phone and car keys?  With all those accessories, there are a lot of bulges just below the waist.
I was pretty sure that if I wore the jeans out in public, I'd be accused of being a manther.  Then I looked up the definition and realized it was more likely I'd be accused of being a wannabe old guy who had no concept of current fashions for a 40-year-old.
I expressed my concern to my wife and she replied, "Everyone needs at least one pair of skinny jeans."  Do they?  Is that true?  Everyone?  I refer back to my proposed eating establishment legislation.  "Besides, I think you look sexy," she concluded.
Okay, she got my attention.  I mean, hey, I'm a married man, and I really only have one person I need to impress in the sexy style category.  And she said the magic word.  So today I pulled out my skinny jeans and squeezed myself into them like a hundred clowns in a Smart Car.  While I felt like I needed to wear my sunglasses indoors and carry my guitar around with me to legitimize my appearance, I was otherwise fairly comfortable with my PDA (public display of audacity).  Not sure I'll ever get used to showing my plumber's crack (gluteus maximus cleavage) each time a bend over or squat (I'm pretty sure my wife dropped her keys and asked me to pick them up on purpose), but as a clothing choice, I'm not as opposed to skinny jeans as I used to be.  Maybe my wife's right.  Maybe everyone should have at least one pair of skinny jeans.