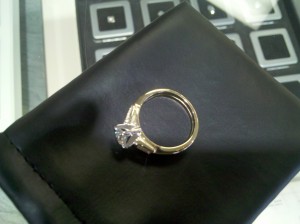 I took a pretty good beating in the blogosphere recently. My wife used her blogging forum to let all her readers know what a lousy husband I have been for not having her wedding ring repaired after one of the baguettes fell out. So for about two years the ring has sat in her jewelry box instead of on her finger.
Because my wife is blazin' hot, she's been having to fend off numerous suitors over those two years not having a ring on her finger to forewarn them that she had already been claimed off waivers. At one point in my life I think I was a pretty good romantic. Now I'm just a bafoon. I'm not sure whether that comes with age or laziness. Having kids doesn't help, but I'll save that excuse for one of my many other opportunities when I'm in the dog house.
The good news is that I have repaired the ring. The bad news is that I need to find a romantic way to reintroduce that ring to her finger.  Sliding it on her finger while she sleeps is apparently out of the question.  Therefore, I'm open to suggestions, but I need to do this fast. The sooner I can get that endless circle that represents our undying love for each other back on her finger, the sooner I can get rid of all those lecherous jackals prowling around my bride of eighteen years.
Right now, the only idea I have is going out for a nice dinner or picnic or doing go-karts, so if you've got something good, please share.  Otherwise, wish me luck.