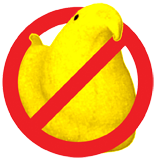 Tonight is the beginning of ten days of "fringe" theater in Indianapolis.  This should be fun.  And from what I can see, there is a little something for everyone.  There are comedies and dramas.  There are one-man/woman shows.  There are shows with adult content and several without.  There are even shows that are kid friendly.  You can get your sampling of Shakespeare or musical comedy with, as I'm expecting, an off-off-Broadway flair.
Tonight I'm going to see Not a Peep from a local (Indianapolis) troupe of performers called ShadowApe Theatre Company.  I'm not sure what to expect, but because it said it was kid friendly, I'm taking my 11 year-old daughter.  Check back tomorrow and I'll fill you in on all the details.
Let me encourage you to take stroll down Massachusetts Avenue and check out one of the 300 performances happening here in Indy over the next 10 days.  I think that you will be enriched through the experience and you will also be contributing to the community by supporting the arts and specifically live theater.  Also, if you do go see a show, tell me what you saw and what you thought – good or bad – in the comments below.  I'm looking forward to it.