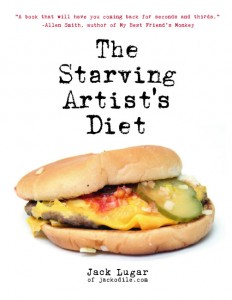 Each day I get one step closer to seeing my first book go to press.  It's been a bigger project than I first imagined, but I know it's also a better project than I first imagined.  And while it is not going to be a book for all times, it should bring a smile to people's faces and hopefully even a little chuckle.
The book is called The Starving Artist's Diet.  It's a humorous look at what artist must do to survive and still create his/her art.  Each chapter presents actual eating tips to make your money go a little further and features real artists out there making it happen.
All along I have planned to self-publish this book.  At first I thought no publisher would be interested.  As I've developed and now written the book, I've come to think this actually might be of interest to a broader audience.  Still I've decided to keep control of the publishing.
As I've looked at the cost of publishing, I have decided to use Kickstarter to essentially pre-sell the book.  You should check out Kickstarter.  I'd love for you to participate and pledge for my book, but you should take a scan through their site to see if there are any other projects that catch your fancy.
Anyway, I'm a day or two away from launching my Kickstarter campaign.  I'm a bit nervous because what if no one participates?  What if no one wants to invest?  Can my ego take that kind of rejection?  Like with everything in the past, I'll survive.
Thanks for keeping The Starving Artist's Diet in mind and check back here frequently to keep updated on its progress.