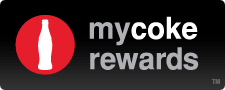 Has anyone else tried the Coke Rewards program?  You sign up at www.mycokerewards.com and then enter the codes on the boxes and bottle caps to earn points and win prizes.  Maybe it's just me, but I'm coming to the realization that I'm wasting my time.  Actually, after I entered my first code, I knew I was wasting my time, but I'd started something and I didn't want to rush to judgment.
Well,  now I'm two years into occasionally collecting the codes and entering them into the Coke Rewards site, and I have a whopping 684 points (that's 3 points per bottle cap and 10 points per 12 pack).  What can I get with 684 points? I can get a lot of sweepstakes entries, screensavers, mobile phone wallpapers, an Avis rental car upgrade, a six month subscription to Siempre Mujer, or a Fanta silver charm bracelet.  I'm really bummed that I'm still 66 points shy of getting the Coca-Cola beach ball.
At this point I'd love to just walk away and forget the whole thing, but I'm committed.  I've come this far, so it's hard to admit that I let Coke steal all this time and energy from me.  Admittedly, it wasn't that much time, but I feel a bit ripped off.  All these years of loyalty to Coke and then they treat me like this.  It's like they really don't care about me.  It's so hard to believe and accept.  I feel used.

So where do I go from here?  Do I take that Fanta charm bracelet or try and stuff the ballot box and put all my points into a sweepstakes?  On second thought, maybe I'll collect just 22 more bottle caps and get that beach ball.  It looks like a really nice beach ball.