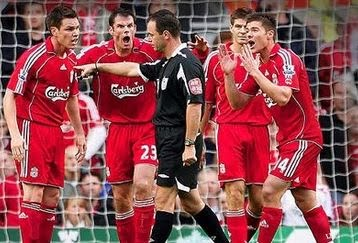 The problem with sports is the refs.  They screw-up so many calls.  They ruin perfect games, miss the big penalties, and call fouls that are only imagined.
The problem with sports is the players.  They're a big bunch of overpaid whining babies who have a ton of athletic ability and very little common sense.  They carry guns, get into fights, stay out too late, and then wonder where all their money went as they file bankruptcy after only three years out of the league.
The problem with sports is the fans.  So many of them are uncultured blow hards who drink too much, run naked onto the field, and get into fights in the stands.  They are blindly loyal when the team is winning and no where to be found when the team is losing.
The problem with sports is the coaches.  Too often they use the wrong line-up, make stupid play calls, and cannot command the respect of their players.
The problem with sports is the owners.  For some reason they think they are qualified to evaluate talent when their specialty is accounting.  And when all else fails, their solution always seems to include spending more money, especially if it's the taxpayers'.
The problems with sports is the commissioners.  They think they own the game.  They change the rules and hand out meaningless suspensions and fines.
The problem with sports is the money.  Whatever happened to playing for the love of the game?  Players only play hard when it's a contract year and don't respect the contract they have signed by demanding more money with two years left on their current deal.
The problems with sports are what makes it really great.  It's the problems that keep the conversation going.  It's what powers so many radio and television shows and written content on the Internet, in magazines, and in papers. The problems in sports helps create a more textured and indepth story.  If there were just the game, at some point we'd get bored.  But when you add bad calls, player complaints, commissioners trying to change the rules, ridiculous salaries, and obsessed fans, you have a beautiful story filled with flawed characters and compelling plots.
So the problem with sports… is what makes it great.  It's a problem that doesn't need to be solved.