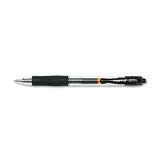 My favorite pen is the Pilot G-2 05
(that's the 0.5 mm version).  I'd never been impressed with a gel pen before I found this one.  I'm sure there are some high end pens that write beautifully, but I tend to misplace pens.  The thought of losing one of my Pilot G-2 05s is pretty tough to take (and it's happened), so I can only imagine how I'd feel about losing a Mont Blanc.
If you want a great disposable (you can get refills) pen, the Pilot G-2 05 is excellent.  The ink flows smoothly and doesn't skip.  It's not too heavy and fat, and it's not too light.  It has a rubbery grip for comfort, no cap to lose, and a clip that is strong and doesn't break easily (also the clip isn't metal, so I don't chip my teeth when I find myself chewing on my pen… it's a long story).  Most importantly, I enjoy spinning it.
Of course it comes in blue or black and a variety of other colors.  You can also get the pen in the 0.7 mm and 1.0 mm, but for me those are too thick except for when I'm writing my signature.
Have you ever tried the Pilot G-2?  When I find others carrying the pen, it's like we have an instant bond.  We're like a little community.  One day, I could see a big Pilot G-2 convention where we all gather together like Trekkies.  We'd dress up as our favorite G-2 pen and… Okay, maybe not.  But as you can see, I love these pens!
I think I'm done obsessing now… But have I ever told you how much I love the Paper Mate Sharpwriter 0.7mm Mechanical Pencil
?