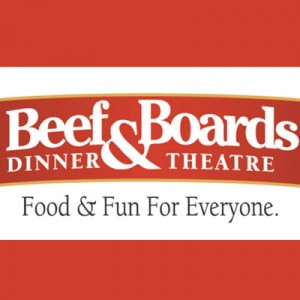 Recently I made a renewed commitment to being a more active supporter of theater and the arts.  To continue that pursuit, my wife and I (and seven, 11 year old Girl Scouts) went to see a production of Hello Dolly at Beef & Boards Dinner Theater in Indianapolis.
The show was very well done.  It's the type of show at which I believe Beef & Boards excels.  A classic musical with dancing, singing ,and comedy.  It's only running for a few more days, so you'd have to hurry to see it, but they are doing Camelot later this year, so keep that in mind.
What is truly impressive about Beef & Boards is that it is a for profit theater.  That's right.  You don't see those very often.  Now I have never seen their books, so I have no idea how their cash flow is, but they've been around for over thirty years.  And they are an Equity theater, so they have to hire a minimum number of Equity actors, which can't be cheap.
Another thing I noticed was the generally senior age of most of the audience.  Beef & Boards has built a fan base of loyal patrons who appear to attend every show.  What suprised me though was that they were a lively audience.  I heard cheers and hollers from the audience throughout the show.  They were an educated audience who knew how to show the actors their appreciation for the performance.  I would believe that made it more fun for the actors because I know it did for me.
I'm glad to say that the Girl Scouts loved the show.  It was the first time for all but one of the girls (my daughter) to see a show at Beef & Boards.  That's a little sad, but live theater (especially with dinner included) is not a cheap form of entertainment.  But the memories and hopefully new found love for theater that the girls came away with should be worth the price.
Well, let me again encourage you to go out and see a live show.  It's good for the arts, the actors, and the community in general because a community without theater will eventually wither and die.  It's good for you too.  Laughing, clapping, and tapping your feet have to be good for your heart and mind.  Better yet, share it with someone you love.