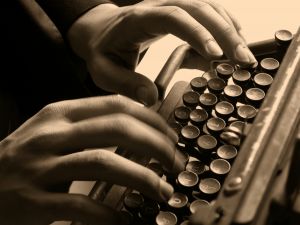 When one to fourteen people die in a single event, it's considered a tragedy. When fifteen or more people die, it's essentially just news.  Yes, I know that when a large number of people are killed at one time it's a "tragedy", but it runs into the problem of large numbers.  The bigger the number, the harder it is to mentally process.
Agree?  Disagree?  I'm not particularly tied to the exact numbers mentioned, but there's some truth in there somewhere.  So what's the benefit of knowing this information?  As a writer, this concept has a lot to say about stories and characters.
When someone tells you that 17 million people were killed by Stalin, six million Jews were killed by Hitler, or three million people were killed by Pol Pot, you go, "wow that's a lot."  The problem is that a number that big becomes impersonal.  In contrast, look how much attention has been give to one person who died as a result of the Holocaust.  What was so much more special or important about Anne Frank than the millions of others killed?  She recorded her story.  All of the sudden there was a name and a face to the murder that was happening.  Her story was a tragedy.
Story is not about people.  It's about a person.  When the story has a name and a face, it becomes relatable.  When a name and face are attached to the death, it becomes more real.  That's why so many people are more interested in the death of a celebrity than they are about the guy down the street.  People "know" the celebrity, but they did nothing more than wave to the guy down the street.
When there is a plane crash or a terrorist attack, the story is less about the people, and more about the event.  When one person is involved, the person is the story, and it is so much more devastating.
In the book Made to Stick: Why Some Ideas Survive and Others Die
, the authors talk about a newspaper owner's mantra that he wanted three things in his paper.  Names, names, and more names.  He believed that a local newspaper succeeded by being as local as possible and telling stories about local people.  I think it's brilliant.  It may be the real reason most newspapers will die.  They think of themselves too highly to just focus on names, names, and more names…especially on a local level.
Let's face it, the best stories are about specific people (or animals or objects personified).  You don't tell the story of a million people dying.  The story is about one or two people amidst that backdrop.  So if you're writing a story (fact or fiction), make sure it's focused on people… better yet a person.  By focusing your efforts on telling the tale of one or two people, you will write more compelling stories.