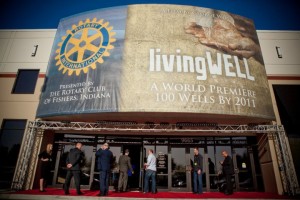 Last night I had the opportunity to go to the premiere of a movie sponsored by Fishers Rotary Club (in Indiana).  The movie by George Wiley was called livingWELL and focused on the struggle of providing clean water to the people of Sierra Leone.  The movie was created in large part by George's sheer desire to make a difference for these people.  The Fishers Rotary Club has taken on this charitable project by establishing a goal of funding 100 wells in Sierra Leone by 2011.  World Hope International is the charity responsible for training and equipping the people to drill the wells.
Last night, George's movie was presented as part of the fund raiser and conveyed a touching story about how desperate the need is for clean water.  Something we take for granted each day here in the U.S. is essentially more valuable than gold in Sierra Leone.  While we can turn on the tap and fill a glass with clean water, many people in Sierra Leone have to walk a mile or more to a watering hole that is used for bathing, washing clothes, and getting drinking water.  Worse yet, they will bury their dead in the same area.  As a result 25% of the children in Sierra Leone will die before they reach the age of five.
Prior to last night's event, Fishers Rotary Club had raised enough money for 17 wells.  By the end of the evening enough money had been raised for an additional 71 wells for a total of 88 wells.  With only 12 wells left before the end of the year, it appears that the goal is easily within reach.
It's my understanding that there will soon be a link to view the movie online. It is a must see.  You will be amazed at the conditions these people live in, but see how, in spite of their living conditions, they are filled with a zest for life.  You'll also see how something as simple as water brings them hope and joy.  When the movie becomes available,  I'll post a link.  In the meantime, visit Water is Life to learn more about the plight of Sierra Leone and their need for clean water.
There are so many worthy charities out there.  This is just one of many.  If you don't give to this project, find another one.  You will be rewarded in so many ways when you give your time and/or money.  Let me encourage you to give.  Give in your local community.  Give in your city, state, or country.  And give to the world.