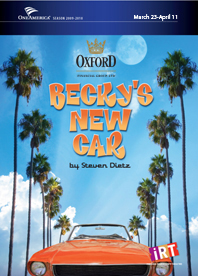 Having practically grown up in the theater, it was refreshing to actually return to one of my old stomping grounds to be entertained. Live theater has not been a luxury on my list for quite a while. It's odd how the further you get away from something you love the more it seems like it will just be drudgery to go do. I actually had to convince myself that seeing live theater would be more entertaining and edifying than sitting with my kids watching American Idol. Now, don't misunderstand. I think there is great value in sitting with my kids and watching American Idol because it allows me to relate to them on their level, and I feel a little less cool when I know the next "artist" to be played on Radio Disney. However, I believe it's more valuable to spend some adult time with my wife occasionally.
Last night we went to Indiana Repertory Theatre (IRT) to see a fairly new play by Steven Dietz titled Becky's New Car.  I wasn't particularly impressed by the title or poster that I had passed several times, but my daughter had just completed an acting class at IRT, so it was fresh in my mind.  Now, having enjoyed a couple hours of quality comedy, I'm glad we went.
I've spent a lot of the last twenty years saying that I should see more theater.  As a kid, I always wondered why my parents never went to see movies, but now that I have kids, I know why.  Between the cost of tickets and baby sitting, a night out costs a small fortune.  Spending that on a movie is hard to rationalize.  Spending it on legit theater seems to be a better bet although a little pricier most nights.
So I'm making a commitment to spend a little more of my discretionary income on a live show or two.  It's worthwhile.  It's good for me, my wife, and the community as a whole.  Let me encourage you to do the same.  If you're in Indy, go see Becky's New Car or one of the other shows at IRT, The Phoenix, Beef & Boards (my sister's in Hello Dolly right now), or any number of other theater groups.  If you're not in Indy, support the theater where you're at.  Support the arts for yourself and the community as a whole.