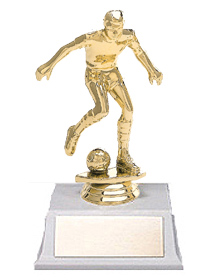 My oldest boy first played soccer when he was about four years old.  As he ran up and down the field we would cheer him on, encouraging him to run a little harder and beat the other kids to the ball. As many parents will relate, it's a bit of a helpless feeling to sit on the sideline watching your child play a sport.
We knew he could do a little better… not that it was really that important considering it was four-year-old soccer… but we wanted him to experience some of the joys of success such as scoring a goal, assisting a teammate, or even winning. His team didn't win a single game that year (for some reason the league created teams by age and the four year olds were competing against the five year olds).
During halftime at one of his games, my wife, Elisabeth, and I offered to give our son a special reward (bribe) if he went out there and scored two goals. So what immediately happened when play resumed? He scored not once, but twice. And then after that? He returned to making a modest amount of effort and never scored again.
We, of course, were in shock. How did he do that? When the game was over, we asked him. "Why don't you do that for the entire game?" He replied with a wise statement well beyond a four year old. "I don't have to. I get a trophy anyway."
He was right. Apparently even four year olds understand that when you reward mediocrity, that's what you get.