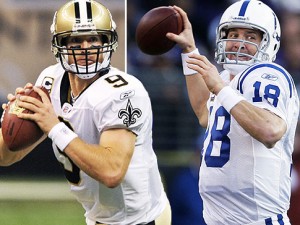 The Super Bowl is almost here and my sports related posts will soon come to a close, but considering that I live in Indy and the Colts are in the Super Bowl, I have a few more football posts left in me.
Tonight I was watching the news and I saw Queen Latifah say that she was rooting for the Saints because they were the Cinderella team.  Since when?  If I remember correctly, the Saints only lost three games this season.  They dominated almost every team they played with a high flying offense and pounding defense.  Brett Farve was hit so hard two weeks ago I think they knocked his dentures out.
A Cinderella team is one that is not on equal footing with all the other teams, but for some reason is still competing and winning.  We see it every year in college basketball during March Madness.  A Cinderella is George Mason going to the Final Four, or NC State winning the whole thing.  The Cardinals of last year's Super Bowl were more of a Cinderella team than the Saints.  I wonder if Queen Latifah was cheering for them.
Nothing about the Saints this season says "Cinderella".  Sure the franchise has been a disaster for generations, but that does not make them a Cinderella.  Actually, for the past two or three years, the Saints have turned their franchise around, which is directly related to Drew Brees and Sean Payton.
In fact, the Saints remind me of the Colts before Peyton Manning showed up followed by Tony Dungy (Bill Polian had a big hand in there too).  The Colts were awful for so many years.  The only reason they were able to draft Manning was because they were flat out horrendous.  And they weren't just bad for one or two seasons.  It spanned decades.
I get the fact that the Saints are the darlings of America right now.  It's a great story.  A loser of a team for generations finally makes it to the Super Bowl.  The city is still rebuilding from Katrina.  And they've never won a Championship.  I would have been cheering for the Saints if the Colts had not made it.  I'm a huge Purdue fan, so I always want Brees to be a dominant QB in the NFL.  So it makes sense that the majority want to see the Saints win.
But let's not kid ourselves.  The Saints are a high powered team that rolled through the season.  They are no Cinderella.  They're an elite team.  One that is better than every other team in the NFC.  They are on equal footing with the Colts and should make the Super Bowl a spectacular event.
With that said, I still feel pretty confident that the Colts will win.  Maybe it's destiny, but I think Peyton is on his way to three of four Super Bowl rings.  So my prediction for this one is Colts 35 and Saint 27.