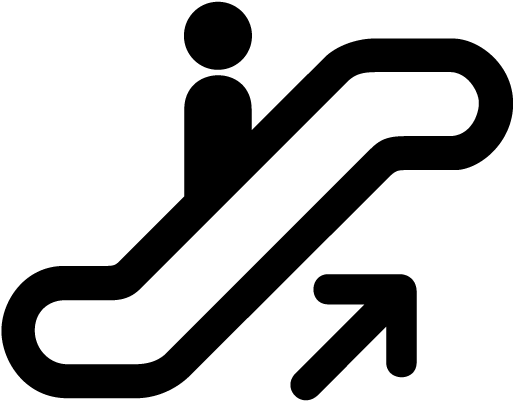 I work on the fifth floor of a five story building, but the escalator only goes to the fourth floor.  <Yes, my escalator doesn't go all the way to the top.>  I was told that when they designed the building it was only going to be four stories tall, but at some point during construction the decision makers realized that they needed more space and added a fifth story.  Fortunately they included an elevator to the fifth floor, but they chose to stop the escalator at the fourth floor.  Thus, the only access to the fifth floor is by elevator or stairs, which are both fine options.
What irritates me is when I'm on the first floor and step onto the elevator with another person, I select the fifth floor, and they select the second floor.  You see, the elevator is right next to the escalator and it would have been just as easy for "Mr. Second Floor" to have hopped on the escalator and not have delayed my progress.  Instead, he has to use the elevator and waste my time.  Would he do this at the mall?  I doubt it.
Now don't get me wrong.  Like most everyone, I could handle a little exercise and take the stairs, and believe me, most of the people in my building could use some stair work.  But come on.  Why doesn't "Mr. Second Floor" just hop on the escalator?  It's faster in most cases, less claustrophobic, and it doesn't slow down all the people who have to travel to the fifth floor and cannot use the escalator.  Those are ten seconds of my life that I will never get back.
I feel better now that I was able to vent a little.  What about you?  Any office related pet peeves?  Please share.
On a related note, I've often thought it would be fun to put a spiral slide from the top floor to the first floor of my office building.  The slide is an under utilized mode of office transportation if you ask me.  Everyday, I'd ride the slide down and then climb back up the "corporate ladder".