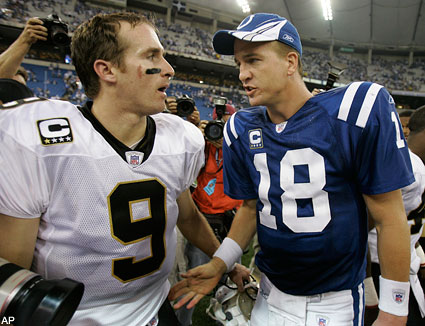 So the Saints pulled it out and are headed to Super Bowl XLIV.  While I had imagined a "Perfect Bowl" (I created that term) between an undefeated Colts and undefeated Saints,  slightly imperfect Colts and Saints teams will have to do.
By the end of the NFC Championship game, it actually seemed like a contest of who wanted to win less.  Neither team looked impressive considering the Vikings kept giving the ball away and the Saints never really produced any offense.
I would have enjoyed seeing the Viking go, so we could have seen Manning vs. Favre, but I am much happier with this match up because Brees is a former Purdue quarterback.  So, I'll wish Drew and his Saints the best, and quickly return to cheering my Colts on to a second Super Bowl Championship in the Peyton Manning era.
It could be a pretty entertaining game with a lot of offense.  On the other hand, the Colts defense looks very stout and the Saints put a huge beat down on Farve.  It should be a good game.  Right now I'm guessing the score will be the Colts 35 and the Saints 27.*  That sounds about right.
*I'll reserve the right to change my mind a few times over the next two weeks.