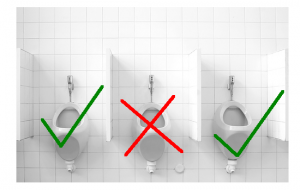 I can only speak from a guys perspective, but when it comes to public bathrooms (men's specifically), there is a urinal etiquette.  The following is a guide I have created so you don't misrepresent yourself in the men's bathroom.
Rule 1 – The Rule of Three:  If there are three urinals, you must choose the correct unirnal to use.  Just because all three are available, it does not mean that you can use any of the three.  When all three are available, you should select one of the outer urinals.  Do not select the middle urinal.  This choice would force urinal user number two to have to select  a urinal next to you.  Instead,  if you select one of the outer urinals, urinal user number two is able to select the urinal furthest away from you.
If two urinals are already occupied, you can wait, but this situation may mean that the bathroom is crowded and you'll never get a private outer urinal.  In this situation, you're allowed to take the only available urinal or wait for a stall.  It's your choice.
If there are three urinals and the doofus in before you selected the middle one, you have every right to wait, use a stall, or kick him in the ass.  If you are second to the urinals and the first user has selected an outer urinal, but the other outer urinal is the little boy's urinal, you must use it anyway.  You cannot select the middle urinal.  If you do not want to use the little boy's urinal, then you must either wait or use a stall.   However, using the little boy's urinal does not make you any less a man… unless you drop your pants all the way to the floor while using it.
Rule 2 – What the heck is wrong with all you guys who don't know how to flush?:  Almost all men were raised by a mother or has been influenced by a female somewhere along the way.  So how did you escape without learning how to flush?  The automatic flushing urinals (and toilets) were most likely created just for the poorly mannered non-flushers.
And for all you weenie germaphobes, that's why you wash your hands after going to the bathroom.  Sure, maybe your junk is covered with bacteria, but it's the flushing aspect that really calls for some hand washing.
Rule 3 – Urinals are Not for Solids:  Come on, guys.  Don't put spit your gum or douse your cigarette butts in the urinal.  The urinal was made to dispose of urine.  That's why they call it a urinal.  It was not made to dispose of solids.  Maybe you can squirt the occasional kidney stone in, but they're pretty small.  They just feel like they're the size of that boulder in the first Indiana Jones movie when they come out.  I digress.  So, save your solids for when your doing some sit down work.
Rule 4 – Don't Pee on the Damn Floor!:  I'd prefer not to stand in your pee while I'm going to the bathroom.  This can be combined with "Don't Pee on the Damn Wall!"  'Nuf said.
Rule 5 – No Talking:  Unless you have known the guy peeing next to you for at least five years, you are not allowed to start a conversation at the urinal.  This, however, is a rule with exceptions.  If you live in a college dorm, are attending a sporting event, or in the cast of A Chorus Line, you may start conversations as you please.  Another exception to the rule applies when the conversation has been started before addressing the urinal.  It is up to the conversationalists whether to continue the conversation or wait until their work is completed before resuming.  A third exception is below, and while it is an unfortunate event, it is a conversation that must be had.
Rule 6 – No Peeking:  If  you are forced to take the urinal next to an already occupied urinal, you are required to keep your eyes focused on the wall straight in front of you.  However, if you fail to keep your eyes from wandering, and accidentally look down at your peeing neighbor and catch a glimpse, you must offer a compliment.  If you look over and down, yet fail to offer a compliment, you will not only be considered intrusive for looking, but rude for not complimenting.  (A note to the women reading this.  Some public restrooms have no dividers between urinals.)
In advance I will thank all guys for adhering to The Rules of Urinal Etiquette.  Next time maybe we will discuss the Rules of Washing Your Hands after using the public restrooms.