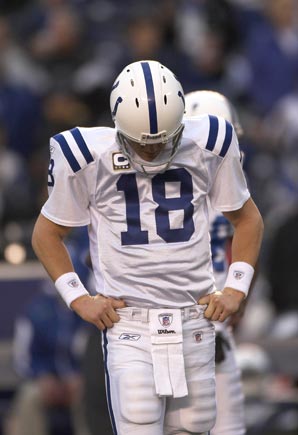 So the Colts threw in the towel against the Jets.  That was ugly.  I guess the Colts wanted to see what it felt like to be Detroit for a couple weeks.  As a Colts fan, I hated seeing them lose on purpose to the Jets.  Now that's not to say that they would have definitely won the game if Manning and other starters had completed the game, but when Curtis Painter and other second, third and final stringers came in, the final outcome had been decided.  Pretty much every Indy fan knew what was coming.
So The Perfect Bowl and The Nearly Perfect Bowl are no longer.  Now it will be like all past Super Bowls (except two).  The No One's Perfect Bowl.  Like most Colts fans, I was pretty mad at what the team did.  It still irritates me that they essentially lost on purpose, but also like most Colts fans I'll move on and hope and pray they show up for the playoffs. Maybe this whole thing will motivate them to go a little harder and prove everyone wrong who says that resting the starters when everything is sewn up is a bad idea.  It's never worked for the Colts in previous seasons, but there's always a first.
What do you think?  Who's going to Super Bowl XLIV?