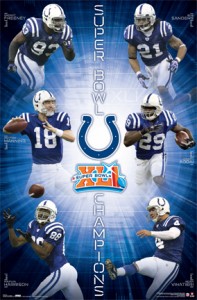 Unfortunately, my quest for The Perfect Bowl disappeared last Saturday.  It was fun while it lasted.  Now I'm on to The Nearly Perfect Bowl.  My hope is that the Colts will continue their winning streak all the way through the Super Bowl.
Today the Colts play the Jets.  While any team can beat another most Sundays, the Colts should be able to easily handle the Jets.  Of course it also all depends on who plays for the Colts this Sunday.  I've made it no secret that I would like to see the Colts play through the end of the season.  In years past, when they have rested their starters, the playoffs have ended poorly for the Colts.  The one year that they had to play all the way through the end of the season, the Colts won the Super Bowl.
So, I'm pushing for the Colts to keep playing and winning, and while I wouldn't mind seeing the Saints join them in the Super Bowl, it doesn't really matter any more.  Whoever plays the undefeated Colts would still just make it a Nearly Perfect Bowl.
Share your thoughts here or at http://www.squidoo.com/ThePerfectBowl