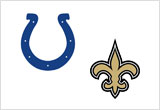 My hopes and dreams of The Perfect Bowl (undefeated Colts & Saints in Super Bowl XLIV) could come crashing back down to earth tonight.  There's something in me that feels a bit uneasy about the game tonight, but I'm enouraged to know the Colts' history in primetime and on Thursday nights specifically.  I saw a stat this week that said the Colts are 4-0 on Thursday night games.  In addition, Peyton seems to play his best when he has the focus of the entire nation (as opposed to Sundays when several games are going on). 
While the coaches have said that everyone who is healthy is playing tonight, that doesn't mean much.  I think there are over 20 players on the injury report for the Colts this week.  And considering that there is nothing really at stake (except my dreams of a Perfect Bowl), each game until the playoffs becomes more an exercise in attempting to stay sharp while not losing players to injury.
What do you think?  Can the Colts keep it going?  And if they do, will the Saints hold up their end of the bargain?  Feel free to visit http://www.squidoo.com/ThePerfectBowl to vote in The Perfect Bowl poll or share your comments here.  Also, tweet your opinion with the hashtag #PerfectBowl.
Go Colts!  Go Saints! 
Go "The Perfect Bowl"!!!