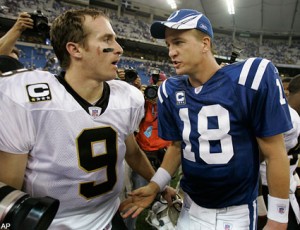 The Colts and the Saints are one step closer to making it a Perfect Bowl. Both teams moved to 13-0 today. The Colts started off on fire, and took a lead of 21-0 before letting the Broncos back in the game with 16 unanswered points. Once again the Colts defense stepped up and controlled the game when the offense was sputtering.
As for the Saints, I didn't see the game. I watched the scroll across the bottom of the screen and for a while the score was tied at 23. In the end, the Saints hit a field goal and won the game by three.
It's quite a long shot to think that two teams could go undefeated all the way to the Super Bowl. While it is improbable, it is by no means impossible. So I will continue to push for The Perfect Bowl.
If you want to join me in this little dream of mine, go to my Squidoo page and vote in the little polls I have, or tweet with the hashtag PerfectBowl (#PerfectBowl).
Let's go Saints and Colts!