I can't wait too long to make this post. By next Sunday the dream could be crushed. Most likely within the next four weeks it will definitely come to an end. But until that time, I'm going to dream. And if it comes true, well, you read it here first.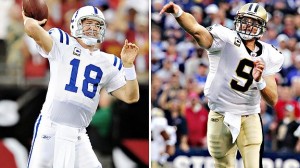 Right now the New Orleans Saints are 12-0 and the Indianapolis Colts are 12-0. Both teams are perfect from a win/loss perspective and with a little luck they could stay that way until Super Bowl XLIV (that's 44). Can you picture it? Two perfect teams in the Super Bowl! Wouldn't that be awesome? Think of the TV ratings. I figure even the less than casual, never watched a game, thinks a football looks like a foot, non-football fan would probably tune in.  I'm calling this The Perfect Bowl.
Now I have to confess. I'm a Colts fan. Ever since they defected from Baltimore, I've been riding the fan wagon. Through the bad times (and there were a lot) and now the good times. When I lived in Las Vegas, I remember coming out of a movie and seeing a Colts preseason game on TV.  It was Manning's rookie year. Man, am I glad the Colts selected Manning and not Ryan Leaf! Anyway, I'm a little biased about who'd I'd like to see win, but I'm also a huge Purdue fan. So I'm always pulling for Drew Brees (the last quarterback to take Purdue to the Rose Bowl).
But what do you think? Is there an ice cube's chance in Hell that the Saints and Colts can meet in Super Bowl XLVI and both still be undefeated?  Could there really be a Perfect Bowl?  Share your thoughts here or go to my Squidoo site and join the poll I have there. Go to http://www.squidoo.com/ThePerfectBowl.  You can also go to Twitter and hash tag the words PerfectBowl (eg. #PerfectBowl).  Join the discussion while you still can.