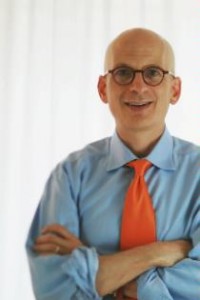 I find myself asking, "what would Seth do," quite a bit these days.  I love marketing and problem solving in the business realm.  So, whenever I'm dealing with a business and something goes wrong, I usually ask myself that question.  WWSD?
Who is Seth?  Seth Godin
is probably the foremost authority on marketing.  I find it humorous when I speak with business owners and I bring up his name.  I usually get a blank stare, but when I run into someone who does know who Seth is, well, let's just say that their eyes light up.  People who know who Seth is, love him.  Or at least most do.
So when I was at the doctor's office with my wife the other day, "WWSD?" came to mind.  We had been taken into one of the exam rooms and told the doctor would be with us shortly.  After fifteen minutes we finally poked our heads into the hallway and asked how much long it would be.  We were told that he had been called into an emergency meeting with his office manager earlier that day and he was running behind on his appointments.  Forty-five minutes, he finally came in and apologized.
I kept wondering how they could make this right.  Obviously he couldn't really cut the appointment before ours short.  They had probably waited as long as we did.  Nothing brilliant came to me, but I was hoping they were contacting others after us to come a little later for their appointments.
For our wait, we were given a Starbucks card.  I think that made things a little better, but I'm sure for some people, Starbucks is not a cure all.  I guess that whatever the plan a business may have to try and placate customers, the main thing is to have a plan.  Have those Starbucks cards or something ready.
I'm still not sure what Seth would have done in this situation.  But whatever it would have been, it would have been good.  If you're familiar with Seth, what do you think he would have done?  And if the name Seth Godin didn't ring a bell, you should check out Seth's
work.  Whatever your business, reading Seth's work will be worth you while.