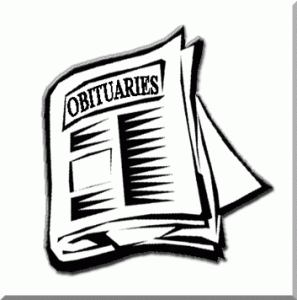 Do you read the obituaries in the newspaper?  I do.  It's one of the more interesting parts of the paper, second to the sports section for me.  It's a place where you can find an interesting story which on some level may be personal to you because most obits are local in nature and therefore may be about someone or at least some place that you know.
So most days I check the obituaries when I have time to flip through the paper.  Elisabeth, my wife, thinks I'm a little strange for reading them, but surely I'm not the only one taking a gander.  I figure if the newspaper carves out two or more pages just to post who has died, people other than me are reading it.  I told Elisabeth that I read them mainly to see if someone I know has died.  Now, obviously it wouldn't be someone I know really well because I believe that I would get that information through a source other than the newspaper.  But for those people I knew when I was younger and lost contact with, the obituary section is perfect.  Just in the last two weeks, three people I knew but had not been in contact with, died.  One with whom I went to elementary school, one who taught me in elementary school, and one of my law professors.  All three were listed in the obituaries section, and if it weren't for that portion of the paper, I possibly wouldn't have heard about two of those deaths.  (Actually, Facebook has become a pretty good source for death announcements too… I don't assume just because a friend has stopped updating their status that they are dead though.)
But here's my problem with obituaries.  If someone dies under the age of 60, it should be a requirement to list the cause of death.  Why?  Because I want to know!  I'm giving a good 30 seconds to a minute of my time to honor the dead and learn a little about their story.  The least they can do is tell me what did them in.
If someone dies and they are over 80, well, I'll just assume it was old age.  But when someone passes and they are 25, give me the scoop.  It's seems to be a fair trade off.  My time and attention for a little information.  It's not like I'm asking for all the sordid details of their life.  Why make me guess based on where they want donations sent in lieu of flowers?
So, from now on, I'm playing a little game.  If there is no cause of death noted in the obituary, I'm making one up.  And rest assured that it will be juicy… or should I say bloody.  It will rank very high on the gruesome scale.
Actually when you think about it, listing the cause of death could be a very life affirming thing.  Imagine that you read that John Doe was killed when he was crushed by a part that fell off a plane as he walked down the street.  I know that I will walk down the street with a little more confidence that day because what are the chances of that happening to me too?  Or what about hearing that Mr. Doe was run over by a car as he sat watching TV in his home.  I know that I'd feel more comfortable that day as I watched TV.    And it works the opposite way too.  If Mr. Doe is killed by a homicidal maniac who is on the loose in downtown, well, I'm going to avoid downtown for a while.
It just makes sense.  Providing the cause of death is a community service.  The community deserves to know for their own health and well being and, well, it's also just downright rude to not share.