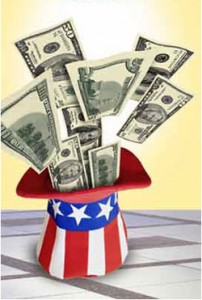 You'll notice that my tax credit countdown widget has been reset.  It's a nice feeling to look and see that there are 231 days left to take advantage of the $8000 tax credit for first time buyers.  It's even better to know that a $6500 tax credit was added for those who already own a home.  Of course some restrictions apply.
However, it already hit me today that even though we now have until April 30, 2010 to take advantage of the tax credit, that's really not that far away.  Winter is notorious for a slower real estate market, and when you consider that you should give yourself at least thirty days to close, you shouldn't waste anytime.  I'm not usually an alarmist, but when you think about it, if you wait until after Christmas, you'll only really have three months to work with.  And I'm very doubtful that Washington will give us another extension. I figure they chose April 30 with the hopes that the usual spring uptick will take over when the credit disappears.  Also, they're probably hoping for a better economy.  Let's hope that's the case for both the spring market and the economy.
If you're thinking about taking advantage of the credit, let me know and I can get you more information to make sure you definitely qualify.  Now is the time to buy if it fits with you current life situation.  I don't figure we'll see an opportunity like this again anytime soon.