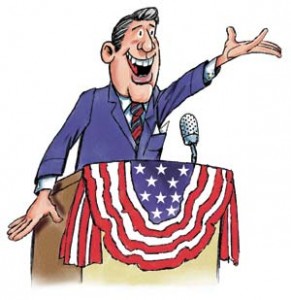 I went to a program at the Metropolitan Indianapolis Board of Realtors (MIBOR) yesterday called Candidate School.  It was a program to give guidance on how to run for public office.  The seminar provided some very good information about what it takes to campaign and then serve amidst maintaining your regular day job.  For most of us there that meant maintaining a real estate business while holding office.  As I was aware, there are very few full time positions on the local level.  Of course this leads to the easy conflict of whether a local politician is serving the constituents or making sure his/her business is benefiting from policy decisions.
One of the more interesting aspects of the meeting was to hear how MIBOR can contribute to a candidate's campaign.  It makes sense.  MIBOR lobbies to help promote real estate issues on a local level, just like the National Association of Realtors (NAR) does on a national level.  Therefore, it behooves MIBOR to support candidates who are also members of MIBOR.  I've always pondered where candidates for local offices (which pay nearly nothing) get their money to run a campaign.  MIBOR is one such place.  Friends and family were another suggestion.
It was a nice session.  Very informative.  It provided me with some insight and motivation for the future.  While I'm a bit busy with work, family and church right now, I could see myself offering to serve sometime in the future.  Maybe I'll just start with President.