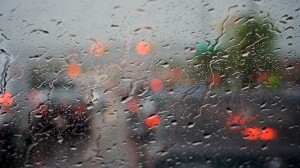 Driving home the other night, my windshield wipers stopped working. I could hear the motor moving, but the blades just sat there. The worst part was that it was pouring and I was ten minutes from my home.
This experience is a great metaphor for life. When the sun is shining, a car without wipers is no problem. You can drive where ever you want without any hindrance. But when storms roll in, you are not equipped to handle it.
It was bad enough that the rain was coming down as I drove, but it was night time, so every light that I passed or went under lit up each little drop of water essentially blinding me for a few seconds. I was pretty sure I knew where the road went, but it was a little unnerving to think that the road may be turning as I continued to drive straight.
Life is challenging, but most of us do pretty well on a daily basis. It's not until it starts raining that we realize that we aren't equipped to handle the rain. Our windshield wipers aren't working. What have you done to prepare yourself for the inevitable storms in life? Are you in a storm without windshield wipers?
We dropped our car off at the shop to have our wipers fixed. It's supposed to be a pretty simple fix and hopefully not too expensive. In life we have a choice to fix the problems that plague us too. If we ignore the problem eventually we'll crash (figuratively and literally). By dealing with the problem we can avoid or at least lessen the negative effects. My wife and I are going through a study with a few other couples called Healing is a Choice: 10 Decisions That Will Transform Your Life and 10 Lies That Can Prevent You from Making Them
by Steve Arterburn. The goal is that when the next storm arrives our windshield wipers will be working, and we'll weather the storm better because we were prepared. Let me encourage you to check your windshield wipers on your car and your life… And winter's coming so you might want to think about snow tires too.