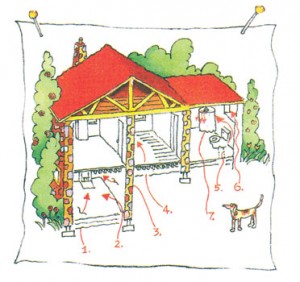 When buying a home, you'll want to have an inspection done by a licensed inspector. This is a visual inspection of the home that will provide you with detailed information on the condition of things such as the plumbing, mechanicals, electrical systems, roofing, structural soundness, and potential environmental hazards. While the inspector will create a detailed book of all the positives and negatives about the home you are buying, the main thing that you are looking for is issues of safety and habitability. This would mean anything that would affect you or the home in a negative way such as causing a fire, allowing water to enter your home uncontrolled, or diminish your health.
Here in Indiana one of the biggest problems that arises, especially on homes with basements, is radon. What is radon? It is an invisible, radioactive gas that develops from the decay of uranium in soil, rocks, sediments, and ground water. Sounds scary doesn't it? While radon is not dangerous to people as it escapes from the ground into the air, it can be deadly if it builds up inside your home. According to the Environmental Protection Agency (EPA), radon is the leading cause of lung cancer for non-smokers and is responsible for 20,000 deaths in the US each year.
So what do you do if you test for radon and the levels are too high? Do you abandon the home and continue your search? No. Radon is easily mitigated and controlled with the installation of a radon reduction system which consists mainly of a vent fan and PVC piping. Unfortunately, even though the device is pretty simple, it is probably not something that you should install yourself. You are best off contacting a local radon mitigating expert and making sure it is done right. The experts I have worked with always give my clients a five year guarantee.
While there are many skeptics about whether there is really any risk with radon, most people are of the camp that you're better safe than sorry. I grew up in a home with a basement, which did not have a radon reduction system, and I do not have lung cancer at this time, but I'm glad to know that my house today does have a system and that my wife and kids are at less risk than I was growing up. Besides, we face enough risk in other things that we do, so why not eliminate one?
Ultimately, if you do come across radon in your home inspection, the seller is going to be responsible to mitigate the radon to complete the sale. You could give the seller a break and not force them to mitigate and either live with the radon, mitigate it yourself, or just walk away from the deal if the seller refuses, but the decision is up to you as the buyer. What ever you decide to do, be an informed buyer because one day when you go to sell, the next buyer will most likely be testing for radon and want it mitigated if the levels are too high.
To learn more about radon and its causes and risks, visit the EPA's website at http://www.epa.gov/radon/.
You can also check out these resources to make sure your home is environmentally safe:
Healthy Home Kit: Inspecting for Environmental Hazards Working With Professionals to Avoid Risks Cleaning Up Radon, Lead, Asbestos and More!

Kidde 442020 Radon Gas Detection Test Kit

Element of Risk: The Politics of Radon