Remember the commercial that asked, "Is it live… or is it Memorex?"


The commercial claimed that the recording quality of Memorex tapes was so high that you couldn't tell the difference between a live performance by Ella Fitzgerald and a tape recording. While it was a little difficult to take that claim seriously, a recording of Ella would possibly be the next best thing.
When it comes to home ownership, sometimes furnishing your home with the real thing or the top of the line item can be a little too pricey. And while the next best thing may not be as good as the top of the line, it may be an acceptable substitute.
Probably one of the most acceptable faux home products is vinyl siding. Sure, it's not brick or cedar or even a composite, but it can give the appearance of wood (sometimes), it's easy to install, and easy to replace when damaged. Here are some other faux ideas for your home that I've come across. Some of these solutions may look or work just as well and in turn save you a good chunk of change.
Big Dogs in Small Packages: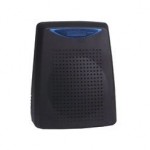 The best way to keep intruders out of your home is to have a big dog.  Of course the problem with keeping a big dog is that they need attention and space and they can cost a lot of money. As much or more than an alarm service. What's the solution? A security gadget like this Rex Plus, The Electronic WatchDog
.
Devices like this have radar eyes that can sense movement through doors, walls, and even glass, and when it detects an intruder, it'll play realistic barking sounds that resonate through the house and can be heard outside. For more realism, the bark of the "guard dog" gets louder and more frequent the closer the intruder gets. No fancy installation is required; just plug it in and mount it somewhere it can keep an electronic eye on the premises.
A Window to your Heart:

How about dressing up the exterior of your home by adding a window or two to that outside wall? Real window installation can cost thousands but a company called FoWin makes fake windows that dress up the outside of your home.  You can't see out of them, but from the outside they can add that inviting touch and break up the monotony of endless siding.
Another Vinyl Brick in the Wall: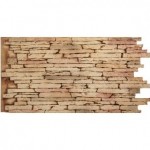 Is your house covered completely in vinyl siding? Do you wish that you had a little brick or stone work to break up the siding pattern? One option is to consider Vinyl stone or brick work siding. It installs like regular vinyl siding and can create a great realistic look. – Most people aren't opposed to using vinyl siding which is supposed to give the appearance of wood, so why would someone complain about vinyl stones. Check out this: Texture Plus Indoor/Outdoor Siding Panel, Stacked Stone, Light Tan – Interlocking

Some other faux home products include:

While these products may not be exactly what you dreamed of, for the time being they may be the next best thing. And since Ella isn't going to make an appearance, Memorex will work just fine.