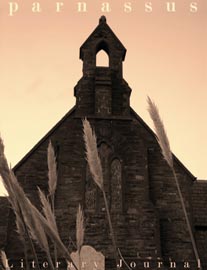 Wally, A friend from college sent me a note on Facebook today about how he remembered a line from a poem I'd had published in the school's literary magazine around twenty years ago (It was in the parnassus 89 issue).  It's amazing to think that he not only remembered the line, but that he remembered I had written it.  He said that someone had posted something about their car's first scratch and that reminded him of the line from my poem about getting the first scratch on a new pair of shoes.
It's funny what things we remember from our past.  Often I can't remember what I did a week or even a day ago.  I can't even remember something I've said minutes later.  But Wally remembers something he read twenty years ago.
I went down to my writing files and found the magazine (my wife is excellent at organizing).  I looked up the poem and thought I might scan it for everyone to see, but having read it for the first time in twenty years, I've decided to keep it to myself.  However, the line that Wally remembered was this:
White tennis shoes with stripes on the side
Become gray or an off-white in the near future.
That first scuff on the toe… it always hurts the most.
You'll be glad that I spared you the rest.
It made me feel good to know that Wally had remembered something I'd written.  While I wouldn't consider it my best work, I would say that one of the greatest compliments you can give a writer is quoting or paraphrasing their work.    Maybe one of the best compliments you can give a friend is remembering a moment in the past that the two of you shared together and then reminiscing with that friend for a moment.  That's probably one of the greatest things about Facebook; that we get to reminisce.  It allows us to bring the good things of the past into our present.  It's nice to remember and be remembered.
What are some of the random things that you remember from long ago?  Why do you think you remember them?  Who were the people involved in those memories?  Please share.