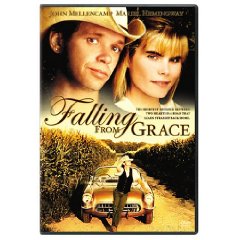 When I was in college, I worked as a production assistant on John Mellencamp's film Falling From Grace the summer between my junior and senior year. It was a grueling, thrilling, exhausting, somewhat empowering experience. Working on a film is not what it is cracked up to be, but makes for an interesting experience and some interesting stories.
For the last week of the shoot, my girlfriend, Elisabeth (now my wife) came to visit the set. We were in between shots, and Mellencamp was sitting on his motorcycle in the driveway of the house where we were shooting. I was also there with Elisabeth. Prior to this moment, I think Mellencamp had only said one thing to me which consisted of, "I want grape popsicles." So I was a bit surprised when he looked at me and asked, "Is this your girlfriend?" I proudly responded, "yes," because Elisabeth was and still is a beautiful woman. Mellencamp nodded and dryly said, "Too good for you."
I smiled and laughed. What else was I going to do? He was right. To this day, I wish I'd had a better response, but to this day, I still know he's right. Elisabeth has endlessly challenged me to be better and to push myself. I'll never deserve the endless fountain of love and affection that she pours on me. I can only hope and pray that I serve her better each day.
So thanks, John. Thanks for making me aware of how fortunate and blessed I am. I like to think of myself as an overachiever.