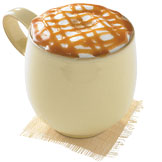 One of the requirements when you live in Los Angeles is that you go see a show at the Hollywood Bowl. When I first moved there I really knew nothing about the venue, but I remembered that Bette Midler performed there in the movie Beaches… Yeah, I saw Beaches. I'm man enough to admit it.
One night we went to the Hollywood Bowl and before the show, we walked down to the Starbucks on Highland Ave. to grab a drink. I'm pretty tight with my money, so when and if I ever go to Starbucks, I usually just order a tall coffee. Spending $4 on a fancy cup of coffee is hard for me to swallow, but this night was special. We were treating ourselves to a Hollywood tradition of music under the stars, so I decided to go all out and order a Caramel Macchiato. Of course you probably know what a Caramel Macchiato is, but Starbucks describes it as, "[a] creamy mix of vanilla and freshly steamed milk marked with intense Starbucks® espresso, topped with velvety foam and our own proprietary buttery caramel sauce." (Sorry, I just drooled on the keyboard.)  Oh, did it smell good. I couldn't wait to taste it. I'm pretty sure the buttery caramel was calling my name.
But, before I could take a sip and start our hike back up the hill to the Bowl, Elisabeth asked me to carry our daughter, Cali, who was probably no more than five months old at the time. Elisabeth was carrying Cali in a BabyBjorn carrier which straps around your back and carries the baby like a reverse backpack against your chest. I set my coffee on the knee high table beside me and took Cali as Elisabeth removed the BabyBjorn. I then handed Cali back to Elisabeth and I proceeded to put my arm through one strap and then sling the rest of the pack around my back.
Instead of coming around to my other arm as usual, the BabyBjorn met some resistance. It had hit the table and… my Caramel Macchiato. There it went, most likely in slow motion, all over the floor. An entire $4 "creamy mix of vanilla and freshly steamed milk marked with intense Starbucks® espresso, topped with velvety foam and [their] own proprietary buttery caramel sauce" dripping off the table and pooling on the floor. It was enough to make this grown man cry… but I held it in.
I can't remember much about the show at the Hollywood Bowl that night, but I remember that at the very moment, I made a vow never to buy anything other than regular coffee at Starbucks. Why? Well, I'm just not sure that I would be able to survive another traumatic experience like that again. At least if I spill my entire cup of coffee at Starbucks in the future, I'll have only thrown $2 away.
This was sometime in 1999 (10 years ago), and I can say that to this day, I have held true to my word. It's only been straight coffee for me. So if anyone wants to meet me at Starbucks and buy me a cup of coffee, you're safe knowing I'll be ordering the cheapest thing on the menu.