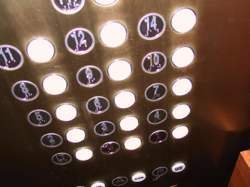 Why don't elevators have a cancel button?  I was at a client's condo and as I stepped into the elevator to go down, I pressed the button that said "1".  Right after that I realized that there was also an "L" and "G" button.  After a quick second, I concluded that the "L" meant lobby and "G" was for Garage and I wanted to go to "L" and not the first floor.  At that moment, I wanted a cancel button because now I had to wait the extra twenty seconds for the elevator to stop at the first floor, open the doors, wait a moment, close the doors and then proceed to the lobby.
How hard would it be to put in a cancel button?  Why not replace the close button which rarely ever works?  I can't tell you how many times I have pushed the close button with no response.   And what do you do when you step into an elevator and someone has pushed all the buttons as a prank?  A cancel button would be very handy.
Seems to me that elevator companies have stopped innovating.  Like, when are they going to create teleporters that just beam you up to your desired floor?  I've always thought it would be fun to have giant twisty slides to ride down from the upper floors.  Imagine taking one of those down from the top of the Empire State Building.  That would be fun… for the first fifteen floors.  Okay, maybe that's a bad idea, but for ten story buildings, it would be great!
I guess I should just be glad I've never been crushed by the elevator doors or that it hasn't dropped me from seventy stories up.  I once save a lady's dress from being caught in the doors.  Now that would have been embarrassing.
After starting to write this, I've realized that I have a lot of pet peeves about elevators and the people who use them.  I'll save that for another time.
What about you?  Any ideas for helping elevators join the 21st century?