From 1992-1994, Elisabeth and I lived in Virginia Beach. We weren't the biggest fans of Virgina Beach, but the Tidewater area as a whole really wasn't that bad. One of our favorite places was Portsmouth with its historic houses and scenery.
One balmy, ninety plus degree, late summer day we were driving over to Portsmouth, and we noticed that the traffic was beginning to back up. We looked ahead and could see that they were lifting the drawbridge. It had happened to us before, so we knew what to expect. About a ten to fifteen minute wait while they raised the bridge, the boat passed through, and they lowered the bridge.
As we continued to move forward with the traffic we noticed that several cars in the right lane were merging over into our lane. Already a little ticked off; I became a little more annoyed that everyone wanted into our lane when we couldn't go anywhere anyway because the bridge was up. But as we continued to roll forward we realized why everyone is merging. Something bright yellow with a hint of red was scattered all over the right lane. At first I thought a truck had dumped its load of yellow flowers, and I wondered why people were afraid to drive over top of them. For a moment I contemplated changing lanes and moving up in the order of cars by driving over them myself. Then I realized what was really dumped all over the road. Those weren't yellow flowers. And the red? Well that was blood. Yes, blood and other slimy things associated with blood.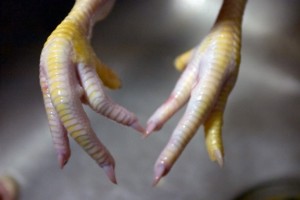 So what were those yellow things scattered on the road? Chicken feet. Some truck which was no where to be seen, had dropped its load of chicken feet. Bright yellow chicken feet oozing red, bloody parts. Now remember, we're stuck at the drawbridge and have come to a stop next to thousands of severed chicken feet in the heat and humidity of the middle of the day. It smelled like something had died or some thousand things had died. And as the air conditioning blew at full blast, the smell was filling our car. We tried turning off the air but it was way too hot, so we kept it on low hoping to minimize the smell and not sweat to death. We wondered if a stench so bad could kill a person.
Of course the bridge was still at least seven minutes from being lowered, so we were stuck. Fortunately, we were next to the feet and not driving or parked on top of them. After a while, we could see that people were getting impatient though with no way to escape the sight or smell. So when people started driving over the endless trail of feet, all we could figure was that they hoped they could get past them. What were they thinking? Yes, it smelled bad, but now it was getting slung onto the bottoms of their cars and up onto the hoods and windshields of the cars behind them. Now they were going to take that smell with them. I could only imagine what it felt like to drive over the crunching and squishing feet. We couldn't help but laugh as we watched chicken feet goo sling up off the tires and dangle from the under side of cars. As tires rolled over the feet, the skin was peeled from the bone. It was a festival of flying and oozing chicken feet that temporarily distracted us from our own misery.
Finally the boat had passed, the bridge was lowered, and we were able to drive away from our nightmare of all those footless chickens. Fortunately, it didn't take long for the smell to dissipate from our car, but I always wondered about those people who chose to drive over the chicken feet. How many washes did it take to remove the dried and crusty goo from their cars?
So next time you're at a drawbridge, train track, or extra long stoplight, which is making you late for your next appointment, be glad that you're not next to a dumped load of chicken feet… or worse.