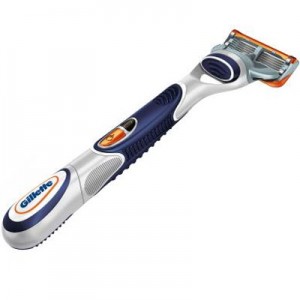 I used to buy the least expensive disposable razors that I could find. My main requirement was that they had two or three blades. I had received a freebie once for one of the six million blade disposables and really liked how it worked, but I wasn't willing to pay $8 for a blade that only lasted two or three weeks.
One day I was listening to Clark Howard on the radio and learned the secret (if you want to call it that) to making a disposable razor last for months. And when I post it here, it will sound so simple you won't believe it. Or maybe you will and you'll say that you've been doing it forever. I wish you had told me a few years ago.
So, what's the secret? Dry the razor blades off once you've rinsed it out. Yep. That's it.
It takes me all of an extra ten seconds to dry the blades and shazaam! Apparently, the water is what causes the razor's blade to dull and not the shaving. I had always thought that shaving an extra day's worth of beard was what caused the blade to dull, but it's not. Just like water dulls knives, the same is true of your razor. Makes sense.
I've seen that you can purchase a machine that will dry your razors, but this defeats the purpose because the main reason for drying your razor blades is so you don't have to spend extra money. What I do, after rinsing my razor, is shake out all excess water. Then I run the blades over a hand towel, in a direction opposite of shaving (for obvious reasons).
It's just that simple. Now I buy the expensive disposable razors and use the same blade for several months. I get the same great shave and rarely experience that "Gotcha!" moment (remember those commercials?)
If you don't use an electric razor, you may want to give this a try. In this economy, every buck counts.