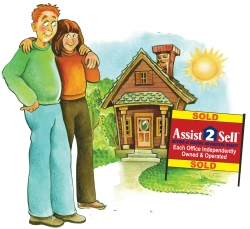 If you own a home and are thinking about selling it, here are a few things you need to keep in mind.
1. It can be expensive to sell your home. When you sell your home you will have Realtor costs and title insurance costs that will eat into the sales price of your home. In some states you pay your property taxes in arrears so you will also possibly have around a year's worth of taxes due. Once those expenses are paid, the remainder will go to pay off the mortgage.
2. All loans connected to your home – first, second & third mortgages, as well as home equity lines of credit (HELOC) – must be paid off at closing. If there is a shortfall, you will have to cover that amount at closing either from your savings, credit cards, or family loan.
3. You will have to make repairs to your home that involve safety and habitability issues. After you have agreed to a sales price with the potential buyer, that buyer is going to hire an inspector to look at the home and make sure there is nothing wrong. Depending on the problems found in the home, the buyer is going to write an inspection response and ask you, the seller, to have certain items repaired. While you don't have to agree to fix everything on their list, items that present safety or habitability issues will need to done or the buyer could walk away from the deal and get their earnest money back.
4. Your home should look like a model home. You need to do everything you can to make your home ready to show. Get a few of the home magazines and mimic some of the ideas shown in the pictures. Better yet, hire a professional to stage your home. Remember, you live in your home differently than when you are trying to sell your home. You want your home to look like it is home to the buyer.
5. Get rid of the clutter. Clutter can be the junk just lying around or it could be too many personal pictures on the wall or mantle. It never hurts to take a few books off the shelf and box them up. Less is more when you show your home. This can also pertain to furniture too. Nothing makes a room look smaller than over sized or too much furniture. You may want to take your favorite La-Z-Boy and put it in storage or loan it to a friend. Just because you love it, doesn't mean the potential buyer will. (Oh yeah, is your furniture covered with dog or cat hair? Get rid of it! Not the pet, the hair.)
6. Speaking of pets, get rid of the smell. Cooking smells can be just as bad… and smoking. Most people don't notice the smells in their own home, but they may be offensive to a buyer. Usually you can find a product that will absorb, not just mask, the odors in the home. Check at your local hardware/home store. Also, remember that over scenting your home can be just as bad. When a home smells too strongly of scented candles and air fresheners, the buyer thinks you're trying to hide something. It's best to get rid of the bad smells and minimize the good smells.
7. You may have to pay property taxes at closing. In some states, property taxes are paid one year in arrears. This means that you will have to credit the buyer around one year's worth of taxes at closing.
8. It is very common for the buyer to ask you to pay their closing costs. The lower the price of the home, the more likely the buyer will ask you for assistance on many of the lending costs. To many sellers this doesn't sound right, but usually the buyer needs this assistance or they would not be able to buy your home. The buyer may have good cash flow and enough to cover the down payment, but not enough for the closing costs. The key is to negotiate the sales price to cover these costs as long as the home appraises.
9. Some buyers even ask for the 3.5% down payment. Don't be surprised if the buyer asks for the down payment too. Again, the buyer has good cash flow, but no cash. So keep working on the price.
10. The pre-approval letter that the buyer shows you isn't worth the paper it's written on. Just because a lender was willing to write a letter that essentially guarantees nothing, it doesn't mean that the buyer is qualified to purchase a home. Home loans have to go through a nasty process called underwriting, and until the underwriter says there is a deal, there is no deal.
11. Even though you agree on a price with the buyer, the appraiser has the final say on what your home is worth (unless the buyer's paying cash). In the current market, appraisers are not as likely to rubber stamp the agreed upon price. Higher scrutiny on their work as led to lower appraisals. Also, it has become common that appraisers are covering home locations (neighborhoods, towns, etc.) they are not familiar with due to recent changes in the law. This also can make for low appraisals. Unfortunately, there is not much you as the seller or your Realtor can do about the appraisal process except cross your fingers or pray (it's your choice which one to do).
12. You need a Realtor you can trust. Yes, a Realtor costs money and it always seems to be more than reasonable, but just like any other profession a Realtor has extremely high expenses and works for free until your home actually closes. It's a high risk and sometimes high reward business. So what are the real benefits of using a Realtor? If you want to be on the Multiple Listing Service, you need a Realtor. Also, a good Realtor is going to explain the process, guide you through the sales maze, help you negotiate the agreement, make sure you understand the good and bad of potential decisions, and make sure that no one takes advantage of you. Of course you can go it on your own, but realize that 80-90% of "for sale by owners" eventually are sold by Realtors. It might not hurt you to give FSBO a try, but if you're in a hurry, call a Realtor.
Do you have any good or bad experiences in selling your home that you would like to share?